2022 NTU Hall of Fame and Shanker Scholarship Awards
The NTU Education Foundation is proud to announce its 24th Annual Albert Shanker Scholarship Awards.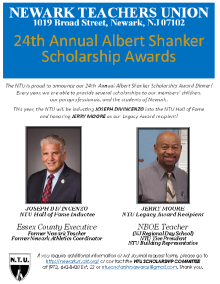 In 2021, twenty-five students received academic scholarships, including seven Presidential Awards in the amount of $2,500.00, six Executive Awards in the amount of $1,750.00 and twelve in the amount of $1,000.00. 

Scholarships are available for paraprofessionals, Newark students, an the children of our member.  The Application is below.
You can support these fine young people and hardworking paraprofessionals by becoming a scholarship sponsor, placing an ad for your business in our Publication Journal, or publishing a personal message. The request form is enclosed.
We are relying on your continued support and good will to continue this worthy endeavor. Rest assured that the recipients will be held to an even greater level of academic and community achievements.
If you require additional information or forms, they can be downloaded at the Newark Teachers Union Home Page http://newark.nj.aft.org/