Contract Information
Colleagues,

Thank you for your patience!

This afternoon, we
The current crisis in Public Education is twofold.  Teachers are leaving the profession, and there is a lack of qualified teachers to fill those positions.  While it took some time for it to impact education, what economists and employment experts are calling "The Great Resignation" has indeed done so.  Fortunately, for now, in Newark this has been limited to classr
Why are we getting a new contract now?
​Today's contract ratification vote was a huge success, and I want to thank all the members who ignored the media hype about gridlock and the MTV Video Music Awards and came out anyway to make their voices heard.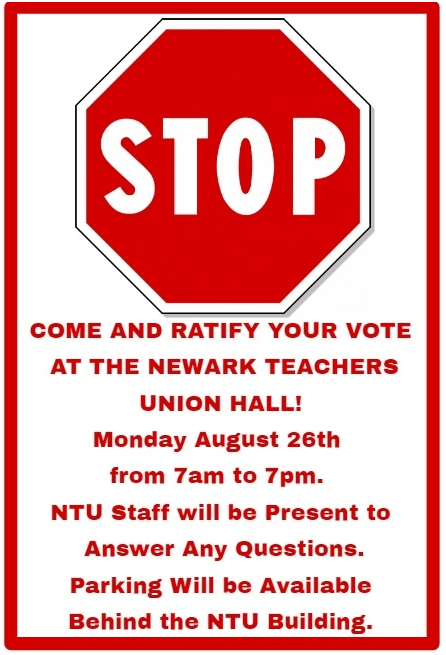 Reminder: Contract Ratification vote is Monday, August 26 ,2019 from 7 AM to 7 PM at the Newark Teachers Union, 1019 Broad Street. All members are welcome to vote!
Why is it important to vote?
This contract removes the last vestiges of corporate reform from the district.  No more renew schools, no more performance pay.  This contract is a message to our enemies that your evil is not welcome in Newark or any other public schools.
We believe we are very close to reaching a contract settlement with Newark Board of Education.   It is going to be very important that you stay in touch with your Union for contract details, information sessions and voting over the summer.
January 15 Executive Board Meeting will be Executive (Closed) Session
In preperation for Contract Negotiations, our January 15 meeting will be closed session.  We apologize for any inconvience.